Apex Machine maintains a huge spare parts inventory, and we also maintain the engineering drawings of every printing system we have ever built. The key to our system is the machine serial number which can be found on the identification plate affixed to the machine. This allows us to identify the exact machine and the components that were fitted in it.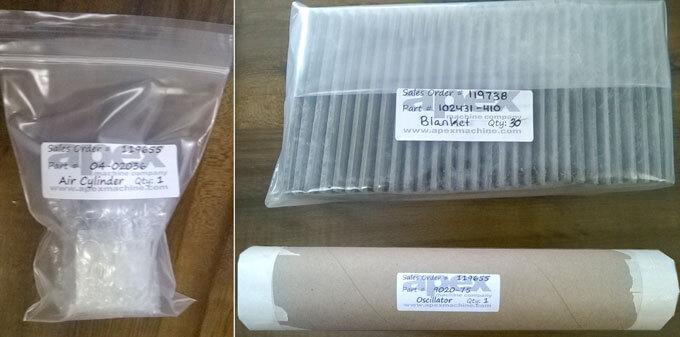 Even if you purchased a machine as long ago as 1910, we will have the drawings of the system and all of the parts that were incorporated in it. If we don't actually have a part in inventory, we can manufacture it within a specified time period.
Parts Ordering
Our Service and Spare Parts Departments are ready to assist you at any time and can be contacted by email at , or by telephone or fax at the numbers shown in our contacts section.
Please provide as much information as possible about your requirements, including the machine serial number - our spare parts and consumable sales department will be happy to e-mail you back with pricing and delivery.
Field Service
Trained technicians are available for service and repair emergencies by call out request. Service contracts are also available to provide regular factory visits for preventative maintenance, operator training, etc. Please telephone our customer service on +1 954 566 1572 to enquire. For Field Service Terms & Conditions - click here.
Second Owners
If you have purchased an Apex Machine from a third party we would ask you to please provide your details, along with the machine serial number, using our Quick Contact form so that we can update our records with regard to ownership and can offer the appropriate support for your successful operation of the machine.