Apex have been manufacturing specialist printing machines for the automotive sector for decades covering a wide range of product type from brake linings and pads, flexible hoses, gas springs, spark plug insulators to oil and gas (petrol) filters.
Oil Filter Printers
Near silkscreen quality at offset print speeds!
The range of Apex Oil and Fuel Filter printers has been especially developed in consultation with customers from around the world to provide the highest quality print capabilities, combined with speed and ease of operation to handle short run production efficiently and economically.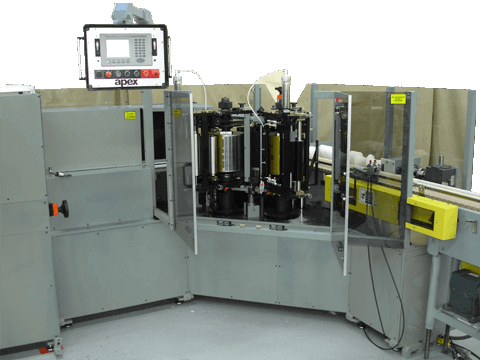 There are different types of printer available to suit most types of filter, from the very smallest, right up to lengths of 12" (304mm), and diameters up to 6" (152mm).
Apex have solutions offering a variety of production speeds and print methods to suit most applications. Machines typically operate in speed ranges up to 200 parts per minute.
Developments in UV ink technology, combined with the new Flexapex printing system developed by Apex, now enable printing through a modified offset process to give near silkscreen density and quality at offset printing speeds. This new system provides potential for substantial cost savings, compared to silkscreen or gravure (pad printing) systems, through lower origination costs, faster changeovers, and higher running speeds. Further benefits include the use of inks that do not contain volatile solvents of the type used in air dry inks in gravure and pad printing processes - an increasingly important consideration in in the light of current trends in ecological and Health & Safety legislation - and the capability to print multi-color images in perfect register.
See the Difference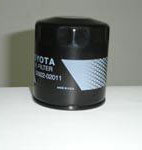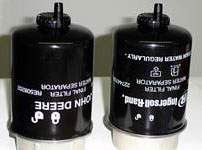 The picture on the left shows a typical oil filter printed with white ink using conventional dry offset printing technology.

The filters in the right hand picture have been printed with white ink using the Flexapex process. The much higher quality of image with increased density and brilliance is very noticeable.
CS-45 Spark Plug Insulator Printers
The Apex CS-45 is a complete system for feeding, loading, printing and coating ceramic insulators, providing inline cleaning, pre-heating, printing, glazing and pre-curing.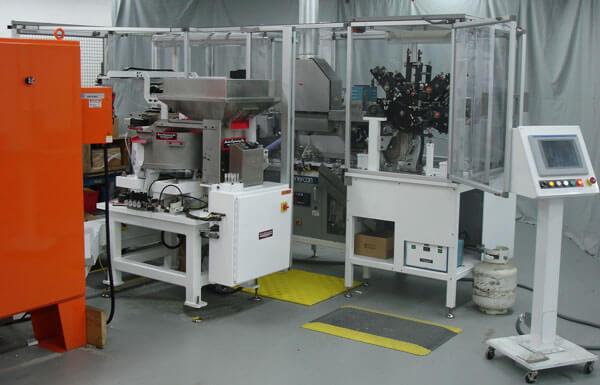 Subsequently to the loading station is a pre-cleaning station where the insulators are pre-cleaned using air and vacuum. This is followed by a pre-heat station where the insulator is heated prior to its entrance into the print station.  In the print station, the appropriate graphics are printed circumferentially around the insulator in up to four colors, utilizing the standard dry offset printing process.
Following the print station is  a flame curing station where the insulator is flame cured before entering into a clear coating or glazing station.  In the clear coat or glaze station, a uniform thickness of clear coat is applied via a spray unit prior to the product being indexed into a pre-cure station.  The glaze will then be pre-cured prior to exiting the product into either a bin or an exit conveyor unit.
The system can be designed to suit particular line speed requirements.
Detailed machine information, specifications and, in many cases, videos are available on request once we have the basic details of your application and requirements to enable us to select and supply the most relevant information and recommendations. Please click below to submit a request for additional information. We will be very pleased to provide you further information and assistance.