Apex Machine Company, a fourth generation family driven business, has been established since 1906. The company specializes in the engineering of parts handling, printing and decorating machinery for three dimensional products of all types. The company is located in Fort Lauderdale, Florida, about 30 miles north of Miami.
We have built our reputation as a results-oriented company by saying "yes" to the most difficult projects, by continually allowing for continued new developments, and by living on the cutting edge of  technology. Apex printing machinery is used all over the world by major manufacturers in medical parts, pharmaceutical, food & beverage and many other industries.

Problem solving and cost cutting are what we do best! We work closely with our customers on new product developments requiring printing, utilising all current print technologies as appropriate. We can also review your current labeling or printing processes and make recommendations leading to cost reductions, increased quality, speed, and product efficiency.
Apex has designed machines for many different industry sectors, and for specific product decoration or marking requirements. Our wide range of 'standard' machines can all be engineered to accept different products, sizes and shapes. Solutions are available for many common product styles and, when no solution yet exists, we can usually design a new system to suit specific requirements.
We would welcome the opportunity to work with you on your next printing application. We are committed to "state of the art" technology and our customer's printing needs. Please feel free to contact us without obligation to discuss your requirements.
How the company started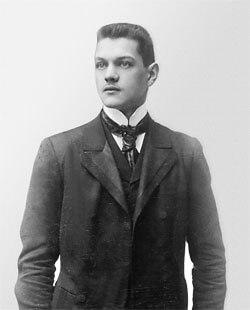 In 1906, Oliver Bodor,  the great grandfather of the current owners emigrated from Hungary to New York City. He was a lawyer in Hungary but, due to the language barrier on reaching the USA, he had to rely on his technical skills as a "Gold Leaf Lifter". This is the art of printing names with gold leaf on glass for doctors, lawyers and other professionals.

When he came to America he invented a small machine to place "gold leaf" initials in the sweat band of top hats. He offered these to department stores, including Macy's. They would emboss the customer's initials into the band of the new hat for identification purposes because all top hats were extremely similar.

Since then the family business of printing on "things" has been passed from great grandfather to grandfather, from grandfather to father, from father to sons, and it is now overseen in the fourth generation by four brothers. The modern, sophisticated machines made by the company today for a wide range of different product sectors and industries have ensured the growth and development of the business internationally. The scope and success of the business today is a far cry from the early beginnings printing hat bands!