Apex C-40 Syringe Printers
The C-40 is our least expensive part handling and printing system and it is specifically designed for semi-automatic applications where a low volume, versatile machine is required.This machine can be supplied for manual feeding, or with various types of automation to feed, treat, print, cure and eject a variety of medical components at production speeds of up to 60 parts per minute.
By using proven Apex components and a building block concept, the C-40 can be supplied with pre-treating systems which include both corona spot-treat or flame treat. A variety of print technologies can also be integrated within this machine. In addition to being able to offer up to 4 colors in the dry-offset configuration, this machine can also be supplied as a 1-color rotary gravure printer, 1-color rotary hot-stamper, up to 4 colors FlexApex, or a combination dry-offset and FlexApex printing machine.
A variety of different curing units can be incorporated to offer either infrared, convection, or ultraviolet curing applicable for the client's appropriate inks and product requirements. Medical devices of varying styles and sizes can be printed on this machine, but the C-40 typically handles parts less than 155mm in diameter and 300mm in length.
Apex C-500 Syringe Printers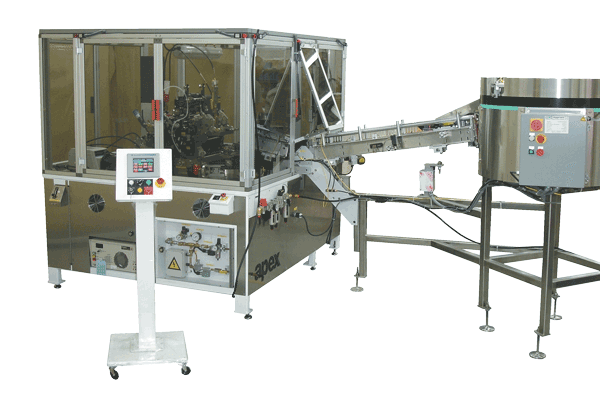 The C-500 is an index-motion part handling system, supplied with  servo-driven 8-station, 12-station or 16-station horizontal dials to suit a wide variety of medical devices and customer requirements.
The C-500 is also of a modular design and, as with other Apex machines, utilizes a building block concept to integrate various features suitable for each application within the system. Extensive and varied feeding systems can be integrated within the C-500 to accept parts in bulk and to sort, orientate and feed these into the machine in a fully automated operation. Often this is done in-line with the client's molding machines. These feeding systems include rotary, vibratory, centrifuge and hopper feeders, in-feed conveyors, vertical chutes and linear conveyors with servo-driven part loading systems. Pre-treatment units can also be integrated to pre-treat components with flame or corona discharge units.
The Apex C-500 can also be offered with different print technologies to suit specific applications with a choice from rotary gravure, 5-color dry-offset, 5-color FlexApex, hot foil stamping and as a combination system that utilizes multiple printing technologies in a customized format.

Apex C-90 Syringe Printers
The C-90 is the "work-horse" among our multiple styles of syringe printing machines. This particular machine routinely runs 24/7, at production speeds of up to 250 parts per minute.
The C-90, typically supplied as a fully automated system, accepts a variety of styles and sizes of syringes in bulk and will automatically capture, singulate, orientate, treat, print, cure and exit parts utilizing many technologies. As with most Apex machines, the C-90 can also be fully customized to suit each customer's exact needs and requirements.
Options include feeders, pre-treatment, orientation (flange and zero-line), print, cure, vision/inspection, auto-reject, auto-eject, assembly functions, part accumulation, and auto-carton/auto-boxing.

Apex C-900 Syringe Printers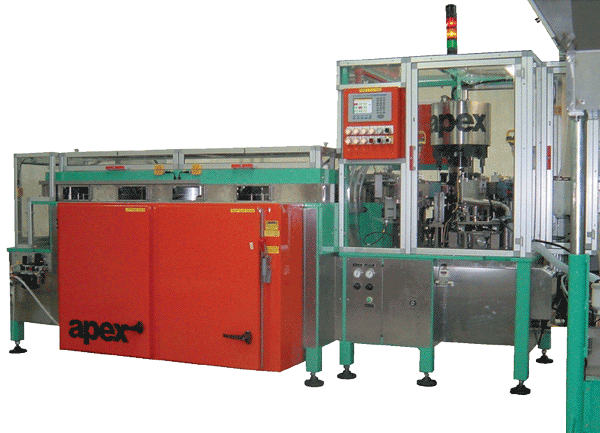 The C-900 is the fastest disposable syringe printing machine in the world.
This system can be supplied with or without mandrels, to automatically feed, treat, orientate, print, cure and exit a range of different disposable syringes at production speeds of up to 800 parts per minute.
The C-900 can be supplied with a variety of feeding, pre-treating and orientation systems, curing units, vision inspection systems, part accumulation and packaging modules to suit each customer's needs and requirements.
For high-speed disposable syringe printing applications, the C-900 is clearly the industry leader. Approximately 250 of this machine type are in production, on a 24/7 basis, with the top syringe manufacturers in the world.
Detailed machine information, specifications and, in many cases, videos are available on request once we have the basic details of your application and requirements to enable us to select and supply the most relevant information and recommendations. Please click below to submit a request for additional information. We will be very pleased to provide you further information and assistance.