Apex S-40 Single Dosage Tube Printer
The S-40 style machine is typically supplied for printing 1-side of flat surface parts, however the basic system can easily be adapted and configured to handle printing onto multiple surfaces and sides. Pictured here is a 2-sided, fully automated system, capable of feeding, treating, printing 4 colors on both sides, curing and exiting strips of single-dosage tubes at production speeds of up to 600 parts per minute.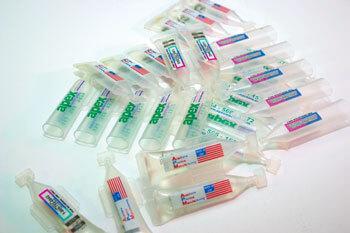 This unique and very versatile system, when supplied as a 1-sided machine, can readily be configured to automatically handle and print IV bags and many other flat medical components, running production speeds of up to 60 parts per minute.
The S-40 APEX Printing system utilizes a building block, modular machine concept, allowing this system to be equipped with multiple and varied feeding and pre-treating systems, printing and curing stations, and part packaging systems.
Detailed machine information, specifications and, in many cases, videos are available on request once we have the basic details of your application and requirements to enable us to select and supply the most relevant information and recommendations. Please click below to submit a request for additional information. We will be very pleased to provide you further information and assistance.