Apex S-40 Needle Cartridge Printer & Coater
The S-40 style machine is typically supplied for printing 1-side of flat surface parts, however the basic system can easily be adapted and configured to handle printing onto multiple surfaces and sides. The pictured machine was designed to orientiate, feed, capture, coat the tops, dry, coat the taper (circumferentially), dry, inspect, exit, and accumulate predetermined quantities of dental needles into plastic boxes at a speed of approximately 100 parts per minute.

The S-40 Apex Printing system utilizes a building block, modular machine concept, allowing this system to be equipped with multiple and varied feeding and pre-treating systems, different printing technologies, printing stations, coating stations and curing stations. Vision inspection systems and a variety of part packaging systems can also be incorporated.
Apex C-40 High Speed Needle Cartridge Printers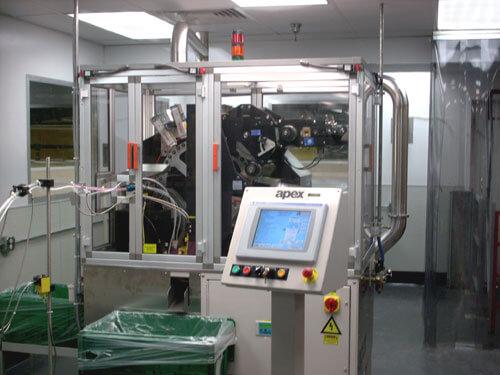 The C-40 will automatically feed, treat, print, dry, and exit needle cartridges of various lengths.  Bulk cartridges are automatically or manually loaded into a bulk bin, which presents the cartridges into the feeder in predetermined quantities. The feeder will orientate the cartridges and present them into the Apex machine via a vibratory track and with constant back pressure.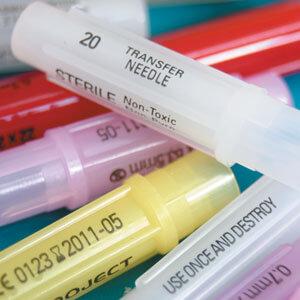 Prior to the cartridge's entrance into the print station, the printable area of the cartridge is corona pre-treated to ensure high quality print adhesion characteristics. A rotary dial is used to escape the treated parts from the vibratory track and present them into the print station.
In the print station the graphics are printed using the dry offset printing process and presented into an ultraviolet dryer where the ink on the cartridge is cured before it is ejected out of the machine into a receiving container, or part packaging system. The complete system has an approximate production rate of 250 to 300 parts per minute, with the actual speed being dictated by the size, consistency and the quality of the parts.
Detailed machine information, specifications and, in many cases, videos are available on request once we have the basic details of your application and requirements to enable us to select and supply the most relevant information and recommendations. Please click below to submit a request for additional information. We will be very pleased to provide you further information and assistance.