Apex C-400 Cryule Vial Printer
The C-400 cryule vial printer implements an index-motion or continuous-motion alligator transport chain to automatically capture cryule vials or other round, cylindrical medical components from a feeding station. These are carried in the transport chain through pre-treat, print, cure and capping stations before exiting into a receiving container.
The system is designed for rigid cylindrical components with production speeds of up to 250 parts per minute.
This system can also be supplied with unique feeding, treating and printing systems, curing stations, and automation at the exit end to offer a fully-automated, turnkey solution, operating inline or offline with the client's molding and packaging equipment.
C-40 Dessicant Cannister & Cryule Vial Printers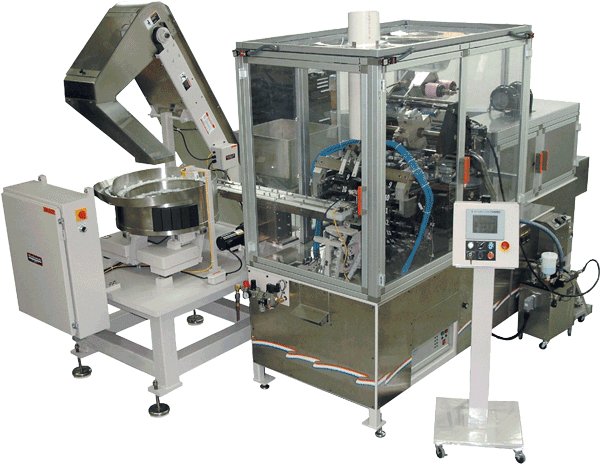 The C-40 is normally supplied as a fully automatic system with desiccant canisters or cryule vials being fed, manually or automatically, into an appropriate bulk bin. Once accumulated in the bin, the vials or canisters are then automatically fed into the orientating and singulating system. From there the product will be automatically treated, printed, cured and capped prior to ejection into a bag, part accumulation bin, or automatic packaging system.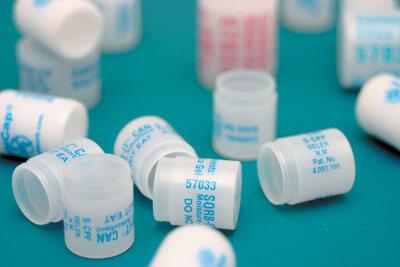 This range of printers is used across a wide range of industry sectors and the various models can be configured to accept many types of small rigid tubular shaped items ranging from corks to lollipop sticks.
A wide choice of printing systems, pre-treatments and speeds are available.
Detailed machine information, specifications and, in many cases, videos are available on request once we have the basic details of your application and requirements to enable us to select and supply the most relevant information and recommendations. Please click below to submit a request for additional information. We will be very pleased to provide you further information and assistance.