Apex C-400 series printers are highly adaptable to suit a wide variety of specialist printing and decorating applications. They are designed to handle rigid and semi-rigid cylindrical parts which are able to withstand the pressure of the the printing process without deforming. C-400's are produced to handle parts as diverse as golf tees, pencils, aerosol cans, marker barrels, shotgun cartridges and many more.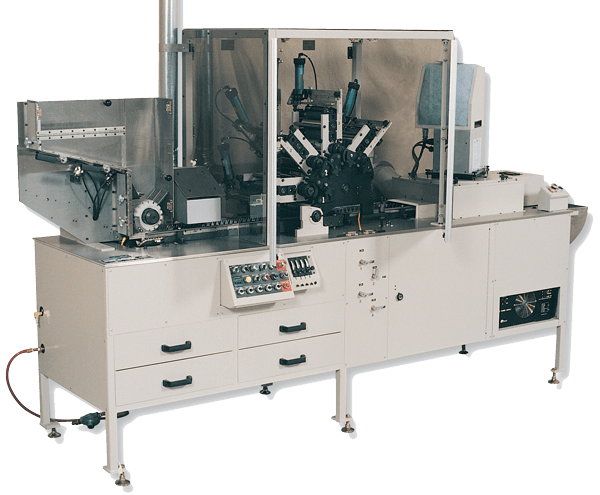 The heart of the system is a continuous motion or indexing chain assembly that carries rigid components throughout the system. Appropriate feeders, pre-treaters, cleaning systems, decoration/printing units, dryers, coaters and unloaders can all be incorporated into the system.

Optional automation to assist with component assembly can also be integrated.

Every customer has a different requirement and each C-400 is therefore tailored specifically to meet your needs and budget.
Features
Automation
Hopper; Chute; Vibratory Bowl; Rotary Bowl; Conveyor; In-Line

Pretreat
Gas/Flame; Corona Discharge

Cleaners
Vacuum; Air Jet; De-ionized Air; Tacky Roll; Brush
Decoration
Dry Offset; Flexapex; Rotary Silk Screen; Rotary Hot Stamp; Rotary Gravure; Letterflex; Flexographic

Drying
Air Dry; Heat Gun; Hot Air Oven; Convection Oven; Ultra-Violet

Options
Overcoat / UV Dry; Auto Cap Insert; Auto Sub-Assembly;
Vision Inspection; Auto Adjust
Detailed machine information, specifications and, in many cases, videos are available on request once we have the basic details of your application and requirements to enable us to select and supply the most relevant information and recommendations. Please click below to submit a request for additional information. We will be very pleased to provide you further information and assistance.