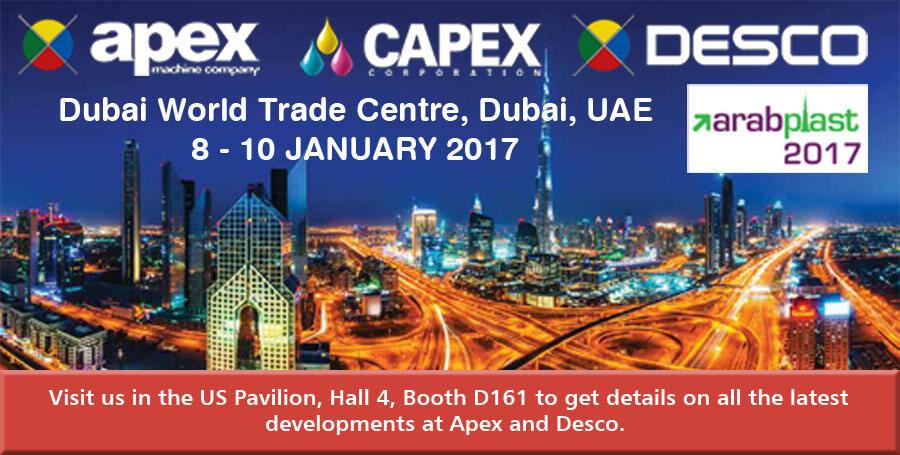 Since 1903, Apex Machine Company has been a pioneer in marking and decorating systems that make printing essential for manufacturers, providing the most superior and versatile automated turnkey fully loading and unloading systems.
A fourth generation company, Apex is a passionate believer in the value and power of printing, and in the change it can bring to the world of 3-D packaging.
ISO9001:2015 accredited, Apex machines are designed and engineered in close cooperation with our corporate divisions, Desco Machine and Capex Corporation, thus, ensuring unprecedented value and unmatched versatility.
With its expanded product line, Apex is committed to providing a wide selection of printing equipment and supplies to meet the diverse needs of the plastic packaging sector including the more complex product handling and printing.
Desco leads the way in its specialty within the container industry as most of these applications are unique.  Another area of Desco's expertise is their manufacture of cost efficient printing systems for varying styles of caps and closures.
Capex Corporation is a specialist ink manufacturer and blender offering a full range of standard and custom inks. Support also encompasses full artwork and plate making services, including supplies of print consumables, chemicals, cleaning compounds and equipment such as photopolymer plate making systems.
Apex's next generation of print solution, the Digapex™ Inkjet Technology, is designed to transform productivity and efficiency.  Eliminates printing plates, and is a high speed, full color, single pass, continuous motion printing system.
'ARABPLAST' will be an excellent opportunity to learn more about us!